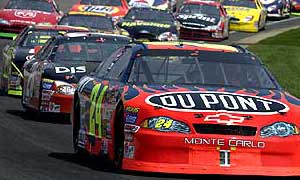 Indianapolis Motor Speedway President Tony George's open-wheel racing enterprise has gotten a boost from its fendered brethren that few outside racing circles are aware of.
So powerful is the connection between NASCAR and the Indy Racing League that a growing number of motorsports insiders believe the 12-year-old open-wheel series that toppled Champ Car/CART could not have survived without the good old boys of the stock car circuit.
With the 15th annual Brickyard 400 approaching Sunday, the IMS should get another nice bump in its revenue stream. Annual revenue from the NASCAR event is estimated by various industry sources to be more than $35 million. With far less overhead than hosting either the Indianapolis 500 or a Formula One event, much of that money goes straight to the bottom line.
Motorsports business experts estimate the NASCAR race has netted more than $300 million in profit for the Speedway over the event's first 14 years.
"The Brickyard 400 is the epitome of utilizing a fixed-cost asset ," said Tim Frost , president of Chicago-based Frost Motorsports, a consulting firm specializing in motorsports business operations. "For the single-day event, it has to be very near in terms of revenue generation to the Indianapolis 500."
George's decision to host the Brickyard 400 might not have been spurred by the thought that revenue from the event could be used to launch an new open-wheel circuit, but it certainly emboldened him to do so, said sources close to George.
Speedway officials acknowledge that funds from the highly profitable NASCAR race have been funneled to the IRL, which for much of its first decade struggled to stay out of the red.
Please enable JavaScript to view this content.