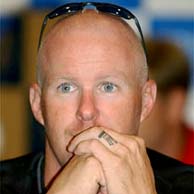 The Indy Racing League's foray into Edmonton is looking good.
Sources on the ground there for this weekend's race report that IRL race signage and promotional material posted by city officials is evident along streets, in restaurants and at other public venues around town. Numerous Edmonton TV and radio sports show are playing up the race prominently.
Several hotel bars near the track are planning parties around the race, including free admission for crew members and race ticket holders. The Molson Girls are reportedly on hand as are a cadre of representatives from Frank's Energy Drink, one of the IRL's new sponsors.
Several of the drivers—including Tony Kanaan and Marco Andretti—have been on the ground since mid-week and are actively promoting tomorrow night's race.
Strong crowds have been reported at yesterday and today's practice sessions. Qualifications, which got underway this afternoon, also had strong attendance. No numbers were released.
One reason for the big crowds, IRL sources said, is the re-emergence of Paul Tracy, who will race his first IRL race since 2002. Tracy has not disappointed, sitting atop the speed chart during this week's practice sessions. He also spun his car into the turn 10 wall yesterday. Luckily for Tracy, and his legions of fans, he only mangled his nose cone, which was quickly replaced.
Please enable JavaScript to view this content.