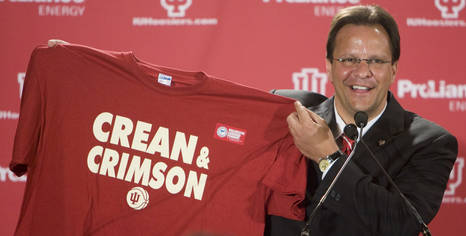 Indiana University is making me look pretty smart these days. And it has nothing to do with the degree I earned there almost 20 years ago.
Three weeks ago I was asked on a local radio show what the biggest challenges would be for Indiana's new athletic director. Current AD Rick Greenspan is due to resign Dec. 31. When I said one of the primary challenges would be to retain new basketball coach Tom Crean, there was a collective raising of eyebrows.
I responded by saying you'd have to be crazy not to think Crean is evaluating his future options. Things at IU are much worse than he anticipated. And, as of last month, he has no idea who his boss will be come Jan. 1. That has to be disconcerting.
The fact that this contract extension comes from the very top—IU President Michael McRobbie—speaks volumes. McRobbie may be slow to act on replacing Greenspan, but he quickly realized he can't afford to lose Crean, who has already proven to be a galvanizing force among IU's faithful.
So yesterday, word came out of Bloomington that McRobbie agreed to extend Crean's eight-year $18.24 million contract by two years. The extension has a lot more to do with what McRobbie fears could happen in the next few months or year than what will happen eight years from now.
In sports business, a contract extension has a lot more to do with a salary increase than actually extending the deal. These agreements can be relatively easily broken by either side. There's no security. And it's absurd to think that turning IU's basketball program around will take 10 years. It won't take half of that.
An extension sends an immediate message—and usually comes with an immediate raise. McRobbie's message is meant as much for other university athletic directors and presidents as it is for Crean. IU is putting a hands-off label—or at least a very high price tag—on their savior.
You can bet that the conversation that led to Crean's extension also involved a promise from McRobbie. Crean will most certainly have input into the hiring of a new athletic director. Football coach Bill Lynch, or any other IU coach, will be afforded no such opportunity to bend McRobbie's ear about the choice.
IU fans might ask what Crean has done to deserve a salary increase before he has coached a single game at the school.
Crean is culpable for none of the bad things that are happening in Bloomington. He is still infinitely marketable.
He has raised his periscope out of the tall grass of Bloomington to survey the horizon. And McRobbie has taken notice.
Please enable JavaScript to view this content.