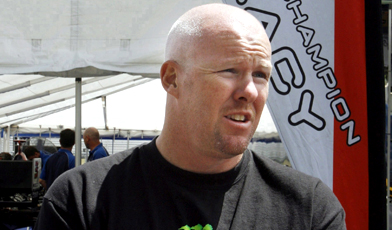 Open-wheel race driver Paul Tracy may not be done this year on the Indy Racing League circuit. This morning, Walker Racing officials told IBJ they continue to work with Subway Restaurants and other sponsors to put Tracy back on the track this season.
Tracy raced in the IRL for the first time this year at Edmonton July 26, and took a surprising fourth place. Tony George's Vision Racing team-which co-oped with Walker to put Tracy on the track-helped paint the car, hauler and provided Subway emblazoned uniforms for the crew.
"We got great feedback from Subway," said Walker Racing spokesman Elizabeth Cannon. "We got huge media coverage, and the result was fantastic. It was really beyond what we hoped for."
The IRL has five races left, with the next event Aug. 9 in Kentucky. Tracy is more likely to re-emerge at one of IRL's next two road races in Sonoma, Calif. Aug. 24 or Detroit—where Tracy has a big following—Aug. 31.
Cannon said the team is also focusing efforts on fielding an IRL team for next year, and Walker would like to continue to work with Tracy.
"A lot of potential sponsors came out of the woodwork at Edmonton," Cannon said. "We continue to talk to Subway, but we are also talking about a lot of potential deals with a lot of companies."
Motorsports marketing sources said IRL and Subway officials huddled before and during the Edmonton race to discuss a larger sponsorship deal—perhaps to make Subway an official league sponsor, maybe even the title role—for next year. Sources familiar with those discussions, called the talks encouraging.
Please enable JavaScript to view this content.