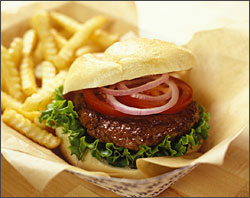 The company city officials hired to handle general concession sales and premium dining at Lucas Oil Stadium could be sold before serving its first hot dog at the 63,000-seat venue set to open later this month. This development has city officials looking at its five-year deal with South Carolina-based Centerplate.
In May, Centerplate officials hired UBS Investment Bank to help find a buyer for the publicly traded company, which has 22 big league accounts including its local deal. Now things appear to be getting serious, with several industry sources saying they expect a deal to get done later this month. If that happens, the Capital Improvements Board, which owns and operates Lucas Oil Stadium, could be stuck with a food service provider that was not in on the planning of the venue. CIB, however, has a clause in its contract with Centerplate that gives them the right to accept or refuse the new operator. This close to the opening, it would be extremely difficult to find a new operator for this first year. Centerplate also has a deal to handle food service at the expanding Indiana Convention Center.
For the first time in years, Centerplate was a no-show at the International Association of Assembly Managers trade show, which was held in Anaheim July 25-29 this year. Industry sources said the no-show means Centerplate is putting the brakes on spending as it prepares to sell.
Three of Centerplate's competitors, Aramark, Comcast Spectacor's Ovation Food Services and Delaware North Sportservice is taking a hard look at buying the company, food service industry sources said.
Please enable JavaScript to view this content.