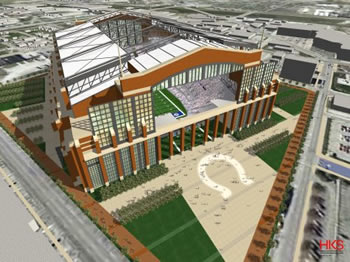 Joe Theismann has been inside every single National Football League stadium. The former quarterback and TV announcer said yesterday that the new Lucas Oil Stadium is a one-of-a-kind.
"I'm not saying it's one of the best I've seen," Theismann said yesterday before serving as the master of ceremonies at the stadium's opening gala. "If that's what I meant, that's what I'd say. I'm saying it's the best stadium I've seen. And I'm not just saying that because I'm here. The NFL has never seen anything quite like this."
Theismann said he was impressed by the design, set-up and entertainment options at the $720 million retractable roof stadium. He added that the sight lines are "amazing," only matched by Ford Field in Detroit.
The stadium's sponsor areas add a nice touch to the facility without making it over-commercialized, Theismann added. "This is a football facility built for a football team and football fans," Theismann said. "It's phenomenal."
Please enable JavaScript to view this content.