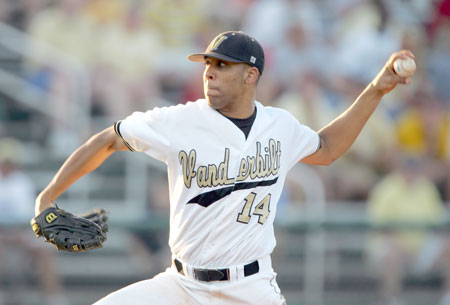 It just keeps getting better for the Indianapolis Indians this season. With attendance already on its way to eclipsing last season's total of 586,785, the Tribe is getting a boost from two special guests.
On Saturday, former Indiana University basketball star Eric Gordon threw out the first pitch. Gordon hung around long enough to chat with scads of fans and sign some autographs. His presence certainly put a few more butts in the seats. Saturday's game drew 14,153, and with five home games left, the Indians' season attendance stands at 553,565.
Last year's total was the team's highest since 2001. "With some decent weather, we have a reasonably good chance of surpassing 600,000 in attendance for the season," said Indians General Manager Cal Burleson.
Tonight, David Price, the 2007 No. 1 overall MLB draft pick is drawing lots of interest from local baseball fans. Price will be the starting pitcher for the Durham Bulls when they come calling at 7 p.m. The Tampa Bay Rays prospect is 11-0 in A and AA this season with an earned run average of 1.87.
"There's a lot of buzz at the ball park about this game, I can tell you that," Burleson said. "ESPN has already arrived this afternoon and will be airing segments before and after the game. A few years down the road, people will be able to say I saw David Price at Victory Field. Of course, we plan on roughing him up."
Please enable JavaScript to view this content.