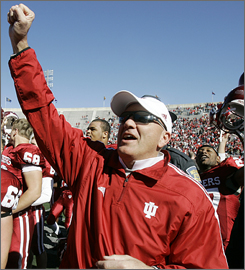 Indiana University basketball coach Tom Crean hasn't even coached his first game for the Hoosiers, and he's already breaking records. Yesterday, Crean signed the richest coaching contract in IU history, a 10-year $23.6 million deal that should keep him in Bloomington for a very long time.
But there's another seldom talked about, but no less important IU record that Crean is chasing. And if he breaks it, it will no doubt gain him a larger legion of cream and crimson clad followers than he already has. Just chasing this record has earned him high marks from everyday fans and IU higher ups.
In the first eight months after being hired as IU football coach in late 2004, Terry Hoeppner made 77 official public appearances and addresses, from Evansville Chamber of Commerce meetings to Fort Wayne Kiwanis luncheons. That's nearly 2.5 officials appearances a week, which on top of recruiting, consultations with area high school coaches, unofficial sit-downs with alums and other coaching duties, stands as an astounding number.
According to IU athletic department officials, Crean may be on his way to breaking that record. Just less than five months into his reign in Bloomington, Crean has made almost 50 public appearances, addresses and speeches. There isn't a corner of the state he hasn't been in, and with just more than three months to go, Hoeppner's record appears in serious jeopardy. Though it's not a record you'll find in any IU record book, the number means plenty.
"The contacts he's making have really made a strong impression on people," said Don Fischer, the radio voice for IU football and basketball the last 35 years. "The one thing I keep hearing is, 'there's a lot of Terry Hoeppner in Tom Crean.' That's high praise."
Crean too may also be the unifying force the Hoosier nation lacked under previous coaches Kelvin Sampson and Mike Davis. Crean has made unprecedented overtures to the men who helped build IU's nationally recognized program. Crean this month even invited all former players and coaches to a private gathering in West Baden in an effort to unify the program's past, present and future. Though Crean has not yet made contact with former coach Bob Knight, Crean said the door to that is open.
Please enable JavaScript to view this content.