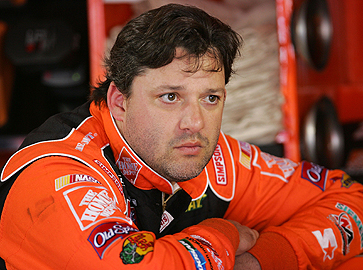 NASCAR driver Tony Stewart is having a pretty bad week. During the same week Stewart was docked 150 points for his team's efforts to mask his car's true horsepower at a recent Nationwide Series race, Stewart also lost a key sponsor.
Officials for Subway restaurants this week announced that they are ditching Stewart for fellow NASCAR driver Carl Edwards.
Subway officials denied that Stewart's expanding waistline had anything to do with the decision. They did however say that Edwards' focus on healthy living and eating was a big part of the decision. Sports marketers said Edwards, called the "fittest man in NASCAR" last year by Men's Fitness magazine, is more compatible with Subway's health-conscious message.
Subway's departure comes as Stewart is leaving Joe Gibbs Racing to start Stewart Haas Racing and drive the No. 14 Chevrolet sponsored by Office Depot. Stewart Haas will field two cars next year, the No. 14 and No. 4, and sources say Stewart has been negotiating with Burger King for the No. 4 car, which will be driven by Ryan Newman. NASCAR sources said Subway officials were irked at Stewart's talks with Burger King, which would create a category sponsorship conflict within the team.
Subway is expected to be primary sponsor for Edwards' No. 99 Ford in three Sprint Cup races next year and sign him to a personal-services agreement to use him in its advertising. The three-race primary sponsorship will run Subway about $2.25 million. Subway is expected to be an associate sponsor the remainder of the year. Terms on the personal services agreement were estimated at a high six-figure to low seven-figure annual sum.
Please enable JavaScript to view this content.