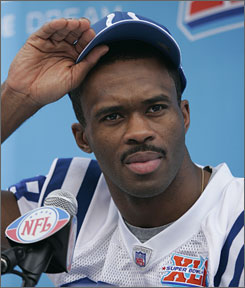 Marvin Harrison is a football superstar, but he sure isn't a commercial superstar. Harrison had a deal with Degree antiperspirant in the late 1990s and another with the Got Milk campaign following the Colts Super Bowl victory in 2007, but little else.
Despite Harrison's pairing with Peyton Manning as part of one of the National Football League's most potent offensive combinations, nothing much has stuck.
Given his recent interview with the Indianapolis Star and the comments from Indianapolis Colts fans that article generated, his act might be wearing a bit thin on the team's supporters.
Sports marketers seem divided on Harrison's unwillingness to give coherent responses to local reporters' questions or to make himself available to the team's fans. "He doesn't want to have any representation within this community outside the No. 88 on the football field," said David Morton, president of locally based Sunrise Sports Group. "That's his prerogative." In a short 2003 interview with Sports Illustrated, Harrison said, "I'm not into talking because that never won any football games."
Sports marketers agree that Harrison's silent act has killed most commercial opportunities he might have to make money off the football field. Well, unless you count his bar and car wash in Philadelphia. "Marvin Harrison never had any intent to maximize his commercial viability," Morton said.
His handlers at the powerful sports marketing agency, IMG, certainly had that intent. They predicted shortly after Manning exploded onto the scene, that the duo—which IMG both represented—would make piles of cash in off-the-field endorsements. Harrison never made much use of his associations with IMG—or Manning—in the commercial realm.
Morton gives Harrison credit for staying true to himself. "He shouldn't be pushed to be something he's not," Morton said. "A player can build himself into a brand, but it has to be true to who he is. To falsify a brand makes it worse for the fans."
Please enable JavaScript to view this content.