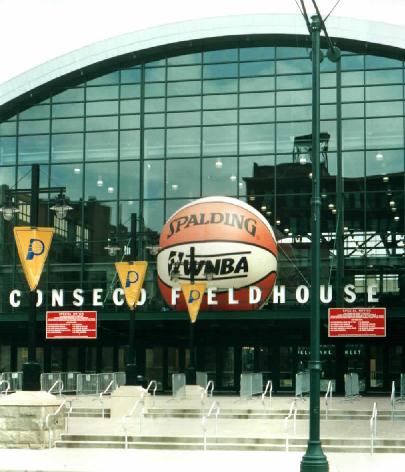 The Indiana Fever re-start their season tonight with the hope of cranking up the team's attendance even more than it has already elevated this year.
Through 13 homes games, the local WNBA team has an average attendance of 7,645. That's up from 7,227 the team averaged last year, and Fever officials are optimistic this year's average attendance could push above 8,000. The team has four home games remaining; tonight, Saturday, Sept. 11 and Sept. 14.
Fever officials expect a crowd near 8,000 tonight and 9,000 or more Saturday. The team is welcoming back its Olympic stars tonight; American Tamika Catchings and Australian Tully Bevilaqua. The Fever also will honor local 16-year old gymnasts Samantha Peszek and Bridget Sloan, who were members of USA Gymnastics' silver medal team at the Beijing Olympics.
The Fever also will be welcoming a new sponsor. Yesterday, the team signed a multi-year agreement with Old National Bank. As a sponsor of the Fever, Old National's partnership will feature its logo on the playing court at Conseco Fieldhouse. Other elements of the agreement include the presenting sponsorship of pre-game Chalk Talks and the newly created Financial Fit Speaker Series, an opportunity for Old National guests to meet privately and listen to a speaker from the Fever prior to select home games. Sports marketers place the value of the deal in the low to mid six-figure range.
Please enable JavaScript to view this content.