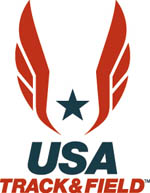 The USA Track & Field headquarters in downtown Indianapolis is taking a cue from Wendy's restaurants. They're staying open late.
USATF's new CEO Doug Logan said this is the first step in creating a "customer service culture" within the national governing body.
"In my first meeting with the national office staff, I made it clear that a new day has come in their relationship with our membership and volunteers," said Logan, a Vietnam War vet twice decorated with the bronze star.
Logan told staffers that it was "discourteous" that the Indianapolis office closed to members in western time zones when it was 2 p.m. or 3 p.m. there. Effective immediately, Logan said, the organization's headquarters on Washington Street will stay open until 8 p.m. Monday through Friday. And he promised the late hours will be staffed by senior staffers able to assist members "on the spot."
"This is more than a gesture," said Logan, who this month took over as USATF CEO for Craig Masback, who took a job with Nike earlier this year. "Our call logs have already demonstrated this simple provision of service was overdue."
Please enable JavaScript to view this content.