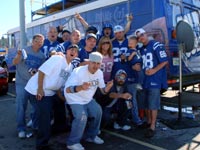 Pressure is mounting on the Indianapolis Colts as this Sunday's season opener against the Chicago Bears looms. Yes, there's pressure to win on the field. But there's even more pressure to make the new $720 million Lucas Oil Stadium a financial winner for the team.
Indiana residents—who will be helping pay off the stadium for years to come—will no longer tolerate whining from team executives about how difficult it is to make ends meat in this small market town. It's true, the NFL's league-wide television contract brings in lots of cash for all teams, but there's still pressure to ring up as much in-stadium revenue as possible.
Tom Zupancic, Colts senior vice president of sales and marketing, is feeling as much pressure as anyone within the organization. Maybe more. I'm pretty sure his contract isn't guaranteed.
Zupancic's staff scored big on its first drive, delivering a 30 percent increase in sponsorship revenue over what the team brought in at the RCA Dome. But the nearly $20 million the team tallied for in-stadium sponsorships this year doesn't mean the Colts have maximized the potential of their spiffy new stadium. Rest assured, the dry-erase board in Zupancic's office is full of ideas.
He'll begin to measure the success of some of the team's early efforts to separate fans from their cash after this Sunday. The idea of opening the stadium four hours before games has a lot more to do with driving up concession and merchandise sales than it does giving fans more time to play with the interactive displays in the stadium.
And year's of watching the growing tailgating activity in the lots surrounding the RCA Dome gave birth to a deal the team inked with Budweiser earlier this year. After all, the Blue Crew shouldn't be the only ones profiting from pre-game partying. The Bud Light Blue Zone inside the stadium gives upscale fans a place to party, while The Bud Zone, a 60-by-120-foot tent that includes food, beverages, promotional activities and musical entertainment, provides another option to let the good times roll.
As the season progresses, the sales and marketing staff's game plan will no doubt be adjusted. The quality of those moves will determine who comprises the team's roster in years to come.
Please enable JavaScript to view this content.