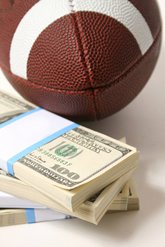 Lucas Oil Stadium has pushed the Indianapolis Colts into the upper echelon of the National Football League in terms of team value. The team jumped from 21st most valuable team last year to eighth among 32 NFL teams this year, according to Forbes Magazine's annual NFL team valuation.
Forbes valued the Colts at $1.08 billion, a significant jump from last year's $911 million. Only the New York Jets and New York Giants had bigger percentage gains than the Colts. Those two teams will be moving into a new $1.3 billion stadium in 2010. No team had a bigger ratings jump than the Colts.
The Dallas Cowboys, who will move into a new stadium next year, were rated most valuable at $1.61 billion. The Washington Redskins were second with a $1.54 valuation, followed by the New England Patriots at $1.32 billion, New York Giants at $1.18 billion and New York Jets at $1.17 billion. The Houston Texans at $1.13 billion and Philadelphia Eagles at $1.12 billion are the other teams ahead of the Colts. The Chicago Bears at $1.06 billion and Baltimore Ravens at $1.06 billion round out the top 10.
The average NFL team is now worth more than $1 billion, marking the first time any professional sports league has passed over that barrier. The 2008 average, according to Forbes, is $1.04 billion, up 8.7 percent from last year. When Forbes first started valuing NFL teams 10 years ago, the average team valuation was $288 million. Forbes said the valuations are calculated using multiples of revenue based on historical transactions.
Please enable JavaScript to view this content.