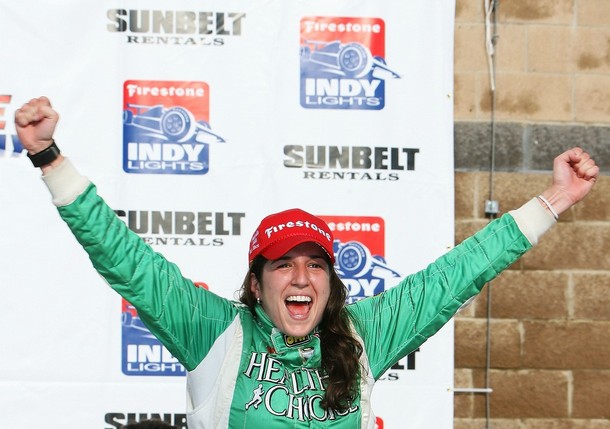 Ana Beatriz is not out to become the next Danica Patrick. But that doesn't mean the Brazilian open-wheel racer—who took third in this year's Indy Lights Series driving for Sam Schmidt Motorsports—isn't bent on becoming an Indy Racing League champion.
"She hates being compared to Danica," said Kaaveh Akbari, Sam Schmidt Motorsports spokesman. "She respects Danica, but wants to develop her own identity."
Beatriz, her crew members said, is laid back off the track, but fiercely competitive on the track, going head-to-head with the likes of Arie Luyendyk Jr. and this year's Indy Lights champion Raphael Matos. Beatriz became the first woman to claim an Indy Lights victory in July and earned nine top five finishes in 16 starts. In addition, she has proven popular with fans and sponsors, bringing Healthy Choice with her to SSM.
Not surprisingly, SSM is eager to retain her. SSM officials are negotiating a new contract with Beatriz and hope to have her signed by year's end. "The best case scenario," Akbari said, "would be to get a deal done in the next 60 days, and set her up for some winter testing."
Beatriz will likely be in the Indy Lights series again next year, with an eye on jumping to the Indy Racing League in 2010. Sam Schmidt's team might make that jump with her, Akbari said. "What's most important to Sam is to be in a situation where he can be competitive and win," Akbari said. "We know that making a jump to the next level costs a lot more money."
Beatriz, who came up racing go-karts and Formula 3, spent her first season this year racing ovals. "The funny thing is, she excelled on ovals," Akbari said. "But she still has some things to work on."
One thing she needs to work on is marketing herself. She seems to have something of an identity crisis. Her full name is Ana Beatriz Caselato Gomes de Figueiredo, and in Brazil she is known as Bia Figueiredo. But when she came to America, no one could pronounce her name, so she modified it. But an Internet search of Ana Beatriz pulls up pictures of supermodel Ana Beatriz Barros.
"A lot of people put in Google 'Ana Beatriz,' and it shows Ana Beatriz Barros with bikinis and she's gorgeous as well," Beatriz said during a recent IRL teleconference. "People are like, 'Wow, Ana Beatriz is like that.' No, that's not me, it's a funny thing."
Please enable JavaScript to view this content.