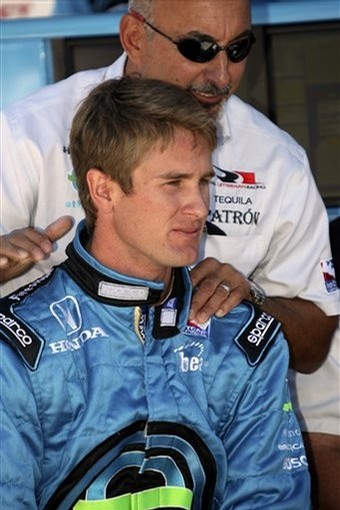 Izod rolled out a new line of Indy Racing League-themed jeans and shirts at a leading fashion show in Las Vegas last month.
This week Izod announced they will rev up a major marketing campaign including in-store displays at major outlets nationwide—including Macy's—and an aggressive mass media campaign featuring driver Ryan Hunter-Reay. The new clothing line, Izod officials said, should be in stores by spring. Izod is also hoping to use Hunter-Reay and other IRL drivers at fashion shows and autograph sessions held in conjunction with races next year.
In July, Izod signed a deal to provide clothes for Indy Racing League and Indianapolis Motor Speedway on- and off-track staff, but this significantly expands that deal. Other than Peak selling IRL branded automotive supplies, the league has no other retail deal of this kind.
Michael Kelly, executive vice president for Izod's parent company, said retailers nationwide have expressed strong interest in carrying the clothing line. He said part of the line will have a classic look inspired by the "Steve McQueen days."
Izod shot commercials featuring Hunter-Reay at Infineon Raceway Aug. 23-24. Those ads will air on television and at movie theaters nationwide, Izod officials said. IRL and Speedway officials granted Izod access of its century old archive of photos and images for use in the new clothing line. The clothing line will include jeans and a variety of active wear for men and women. The clothing will be adorned with a combination of IRL and IMS prints, patches and embroidered logos.
Please enable JavaScript to view this content.