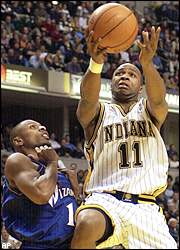 In a campaign rolled out this week, the Indiana Pacers are trying to spur ticket sales by selling their 11-game Slam Dunk Sampler for the price of eight games. While sports marketers think the ploy is a dangerous one, they also agree the team must do something to fill Conseco Fieldhouse for the upcoming season, which tips off Oct. 29. The home opener is Nov. 1 against the defending NBA champion Boston Celtics.
The danger for the team, sports marketers said, is if the Pacers start discounting tickets to this degree, it could be difficult to get fans to pay full price down the road. Of course, a substantial winning streak could do plenty to solve that issue. The 11-for-8 deal expires Nov. 10.
The Pacers may have another—even bigger—issue; Jamal Tinsley. The team's co-owner, Herb Simon, in August said Tinsley must go. But despite the open trading season, Tinsley hasn't packed his bags. For what it's worth, Tinsley's name has been taken off his locker at Conseco Fieldhouse. One prominent sports radio show host said he'd walk to Kokomo if Tinsley is on the active roster come opening day.
Word around Conseco Fieldhouse is that Pacers officials will not invite Tinsley to media day or training camp. The team could deactivate Tinsley, but they'd still have to pay him and he'd also take up one of 15 roster sports if he's not traded. The problem, league insiders said, is that by so publicly voicing their desire to move Tinsley, Pacers officials are having difficulty getting anywhere near fair market value for him.
Please enable JavaScript to view this content.