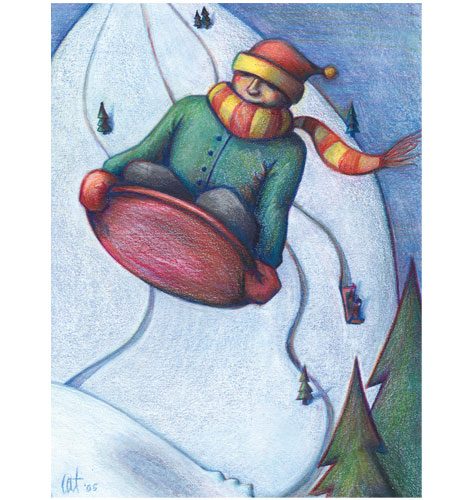 You have to give the folks at Indy Parks and Recreation credit for creativity. How many people would consider turning a world-class sporting facility into a glorified sledding hill and hope to profit from it? Shiver me timbers!
City officials announced yesterday that they will transform Major Taylor Velodrome into Snowball Park this winter. If it doesn't snow, city officials have agreed to pay Infinite Crystal Snowmaking to provide the slippery white stuff on the hill along the Velodrome track. The sledding course is being designed this week. The tentative launch date for Snowball Park is Nov. 15.
The velodrome has given rise to such Olympic medal winning cyclists as Erin Hartwell and Nelson Vails. Who knows, it may now give rise to the next Olympic bobsledder. Would-be Olympians can leave their sleds behind, but don't forget some cash. Sledding tubes will be provided for customers for each two-hour session. Admission fees will be $12 during off-peak hours and $15 during peak hours.
"This is a great showcase of what we are referring to when we talk about revenue generation for the department," Indy Parks Director Stuart Lowry said. "Major Taylor Velodrome is a destination for recreation, and Snowball Park will allow us to extend that use into the winter months."
For more information, visit www.snowmagic.com.
Please enable JavaScript to view this content.