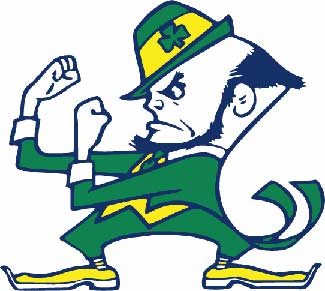 The Notre Dame football team hasn't won a bowl game since January, 1994, but the private university's gridiron gang still sets the gold standard when it comes to money making collegiate sports programs.
The team's estimated annual revenue is unparalleled in several categories, including about $11 million annually from TV, $2.5 from radio and $10 million in sponsorships. Hospitality and licensing account for another $8 million annually. That's more than $31 million before the first ticket is sold.
But Notre Dame athletic department officials have some concerns. Average TV ratings for Notre Dame's games on NBC last season were 1.9, meaning just more than 2 million households nationwide tuned in. That's down from a 2.7 rating in 2005 and 3.0 in 2006, according to New York-based Arbitron Inc. Last year all college football games on ABC scored a 3.9 rating and games on CBS registered a 3.4 rating, according to Arbitron.
Notre Dame has also seen its fan avidity—a measure of how rabid and loyal a team's fans are—drop in the last decade, according to an ESPN Sports poll. A decade ago, Notre Dame was a runaway leader in the category among all college football programs nationwide. Last year, Ohio State nudged ahead of ND for the No. 1 spot. While the Irish held onto the No. 2 spot, the University of Southern California, Penn State and Texas also gained ground on the Irish in the last few years.
Please enable JavaScript to view this content.