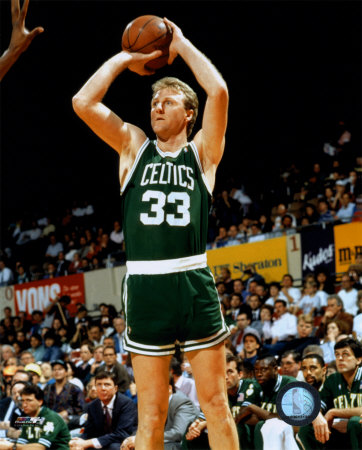 Larry Bird has long been a measuring stick for Hoosier high school hoops hopefuls. Today,  the Indiana Pacers, in conjunction with the National Federation of State High School Associations, the Indiana High School Athletic Association and Dick's Sporting Goods will make that measuring mark official by unveiling the Larry Bird Character Award.
Award winners are determined by criteria that are representative of the qualities of the NBA Hall of Famer from French Lick, including academic excellence, character, sportsmanship and community service, Pacers officials said. Nominees must be high school seniors and a member of their boys or girls high school varsity basketball team.
Nominations for the 2008-09 season will be accepted through Jan. 31, 2009.  Nomination forms may be obtained online at Pacers.com, www.nfhs.org or www.ihsaa.org; or by visiting any Indianapolis Dick's Sporting Goods locations. All nominations must be submitted via mail to: Indiana Pacers, Attn: Larry Bird Character Award, 125 S. Pennsylvania Street, Indianapolis, IN, 46204.
Awards will be given to 10 finalists; five boys and five girls.  The top male and top female will receive a Larry Bird Character Award trophy and a $1,000 scholarship from Dick's Sporting Goods to an accredited college of their choice.
Please enable JavaScript to view this content.