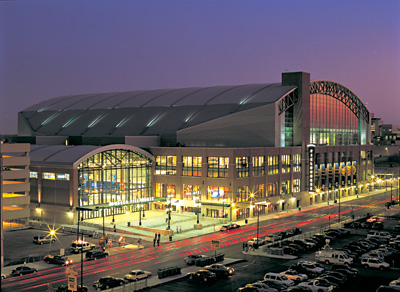 Let it not be said that the Indiana Pacers are not community minded. Team officials yesterday released several initiatives the team recently has launched to reach out to fans during these "difficult economic times."
· 11 for 8: A mini season ticket package is being offered where fans get 11 games for the price of eight. This includes the Nov. 1 home opener against the Boston Celtics.

· 8,600 tickets for $25 or less; one of the highest number (2,300) of $10 seats in the NBA.

· Family nights: Four tickets, four t-shirts, four hot dogs, four sodas for $80.

· $5 tickets for military personnel. Any active military member can buy any ticket (subject to availability) for $5 on game nights with valid identification.

· Season tickets available as low as $299.

· Pacers teamed up with Pepsi to offer special buy one, get one free ticket offer for five games.

· Full season ticket holders didn't have to pay for preseason games; half season-ticket holders didn't have to pay for two games.

· Reduced season ticket prices in specific lower and club level seating areas.

· College Nights: College students offered the opportunity to purchase any balcony ticket for $10.

· $2 rooftop garage parking for every game in Virginia Avenue garage.
I was asked earlier this week during a radio interview which locally based professional team is most at risk during this economic downturn. I said the Pacers, mostly because team officials are smack in the middle of their selling cycle as the downturn hits. The "wait and see" attitude of many local fans during the team's rebuilding process hasn't helped.
This issue begs for reader response. Are these initiatives a way for the Pacers to reach out to a community hurting because of the economy or the reaction of a team in an economic pinch itself? Or both?
Please enable JavaScript to view this content.