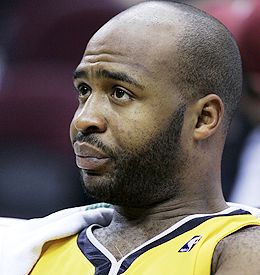 At last, there could be a team interested in trading for Indiana Pacers castaway guard Jamal Tinsley. League sources said the Denver Nuggets are interested. Nuggets officials like Tinsley's defense and think he would fit in nicely playing alongside shooting guard Allen Iverson, league sources said.
If a trade is pulled off, the Pacers could get some combination of forward Chucky Atkins, center Steven Hunter and/or shooting guard J.R. Smith. At 34, Atkins, who averaged 4.7 points per game last year, is a little long in the tooth. Hunter, who turns 27 on Halloween, could be more trick than treat. Last year, the 7-footer averaged 2.1 points and 1.5 rebounds per game. J.R. Smith, 23, has a lot of on-court upside, but is young and unpredictable—in more ways than one. Last year, the three-point-shooting specialist averaged 12.3 points per game during the regular season and 18.3 during the playoffs. The Nuggets are least likely to throw Smith into the trade offer. But the youngster only has one year left on his contract, and flirted with leaving Denver this summer as a restricted free agent. Smith said this summer he received interest from two Eastern Conference teams before deciding to return to the Nuggets.
After Pacers co-owner Herb Simon announced Tinsley must go this past off-season, the 30-year-old point guard who averaged 11.9 points and 8.4 assists per game last season, has not been allowed to be with the team. Pacers basketball operations chief Larry Bird said buying out Tinsley's contract is not an option. If not traded, the Pacers will be forced to pay Tinsley $6.75 million this year, $7.2 million next year and $7.5 million during the 2010-11 season.
Please enable JavaScript to view this content.