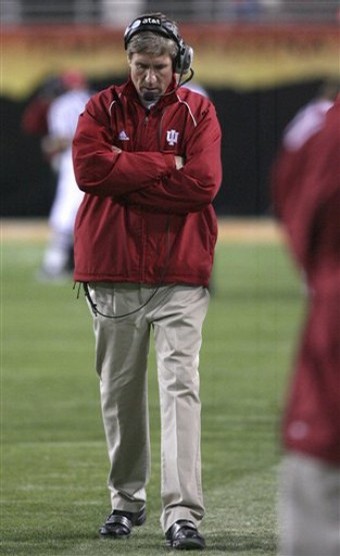 It's time for Indiana University leaders to make the same commitment to football they've made to basketball.
And I don't want to hear any more excuses about this being a basketball state. I'd say the Indianapolis Colts dispelled that myth several years ago. A winning football team attracts fans and makes money. A winning IU football program would turn fall Saturdays in Bloomington into Bedlam. I mean that in a good way.
Think for a moment what an IU vs. Notre Dame clash would mean in this state if both teams were ranked nationally. It would be huge. Because IU attracts supporters from every corner of the state that never attended the school, it would be much bigger than say a Purdue vs. Notre Dame match-up under the same conditions. It's the same reason that no matter how much Purdue's basketball program wins, it will never be as big as IU. I'm of the belief that IU made Bobby Knight, not the other way around.
An IU athletic department official last month said he has learned that just because the school fields a good team, doesn't mean fans will automatically come to Memorial Stadium. It takes several years to build a following, he said. Baloney! IU officials need to learn this: Indiana residents are smart about sports. They know scheduling three college teams not much better than Bloomington South and putting up some early wins, doesn't mean you have a good team.
I don't want to go too hard on student-athletes, but IU currently has a team with an offensive line that couldn't block Jell-o. And Kellen Lewis is a good athlete, but not a Div. I quarterback.
It's time for IU to stop messing around and hire a coach who can recruit, teach and has a game-day plan that at least gives the team a chance to win. I'm sorry, Bill Lynch is by all accounts a wonderful person. But he's not going to take IU to the next level.
This is more than an emotional plea. Building IU into a national football power makes good business sense. A winning football program has a lot more potential to make money than the basketball team ever will. Want proof. One winning season last year, and the IU football team outscored the basketball team in revenue $17 million to $12.3 million. The football team accounted for almost 40 percent of the $44.7 million that IU's athletic department brought in during 2007, up from only 28 percent in 2005. Increasing per game attendance by 20,000 to 25,000 brings in another $4 million in annual revenue—in ticket and parking  sales alone.
I've been told you can't attract a high-quality coach without tradition. Fooey! IU needs to take its increased earnings—and borrow some from the future if necessary—and go buy itself some tradition—in the form of a $2 million to $3 million a year head coach. Tell me why not. IU already pays basketball coach Tom Crean nearly $2.5 million a year. Bill Lynch, by the way, will earn a $250,000 base salary this year. What does that say?
Some of IU's most monied alumni certainly would further financially support the school's athletic department if school officials made such a commitment. Why do I think that? Because some of IU's most monied alumni have privately told me so. They're tired of being associated with a losing football program. They've had it with being the Big 10 doormat. And they'd pay handsomely to move up far enough to at least get a peak of the penthouse.
Many of those IU alumni live in a city where they learned a long time ago that the value of sports and winning goes far beyond the playing field. It's time for IU officials to wake up and learn the same lesson.
Please enable JavaScript to view this content.