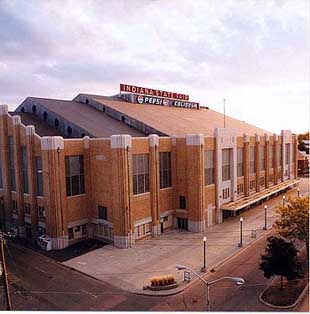 The Indiana Pacers are running into a pick even before their pre-season tips off tomorrow at the Indiana State Fairgrounds. The Secret Service—preparing for presidential candidate Barack Obama's appearance at the Fairgrounds' grandstand—is setting the screen.
Obama's campaign last Friday announced the Democratic presidential candidate would speak to a Hoosier crowd at the Fairgrounds, less than seven hours before the Pacers tip off against the New Orleans Hornets at 7 p.m. The Pacers—who haven't played at the Coliseum in 34 years—have had the game planned for months.
Fairgrounds officials expect about 20,000 people to descend on the facility north of downtown starting before sunrise. Media covering the event are required to be in their assigned places by 7 a.m. so Secret Service personnel can sweep the area. A host of local and national media are expected to attend.
Pacers officials are laying out their floor and setting up goals at the Coliseum today. The Hornets will have a shoot-around at the Coliseum at 9:30 a.m. tomorrow. ESPN, who is following Hornets' guard Chris Paul and the historic game, plans to be on hand.
Shortly after the shoot-around, Secret Service officials said they'd likely limit movement around the entire facility. Secret Service officials hope to be cleard out of the area by 3 p.m. That's when Pacers officials will have to spring into action to complete the set-up. The teams are expected to arrive by 5 p.m.
"We're used to having multiple big events on the same day," said Fairgrounds spokesman Andy Klotz. "Because you have the extra element of the Secret Service and beefed up security, that will be the challenge. It's going to be a long and interesting day for our staff."
Pacers officials said there should be few worries for the thousands of fans expected to attend the game. The Coliseum's capacity is 9,000. "We've met with the officials for the Obama campaign and the Secret Service, and we have all the logistics worked out," said Pacers spokesman David Benner.
Please enable JavaScript to view this content.