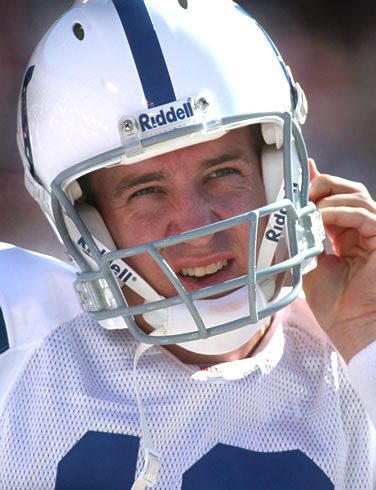 Mirror mirror on the wall … who's the most influential of them all? Business Week attempts to answer that question in this week's issue with an in-depth look at the 100 most influential people in sports. It's interesting to note who's on and not on the list.
First locally, the most influential person in sports is … drum roll please … NCAA President Myles Brand at No. 13. Indianapolis Colts quarterback Peyton Manning is next at No. 29, followed by Indy Racing League racer Danica Patrick at No. 50 (the highest ranking woman), Big Ten Commissioner Jim Delany at No. 86 and Roger Penske at No. 90.
Business Week said about Manning: Younger brother Eli may have stolen the limelight with last season's Super Bowl win, but Peyton is ahead in marketability, pitching Sprint, MasterCard, and Gatorade.
While NASCAR had several executives on the list, there were no IRL executives—and that includes Tony George—on the list. Ouch. While several NBA and NFL owners and executives made the list there was no one with the last name of Simon or Irsay on the list. Golfer Tiger Woods claimed the top spot, followed by NFL Commissioner Roger Goodell and NBA Commissioner David Stern.
During their ESPN morning radio show Mike Greenberg and Mike Golic mused that they should have been on the list. They took issue with New England Patriots quarterback Tom Brady at No. 34, swimmer Michael Phelps at No. 42, Bank of America Sports Advisory Group Managing Director Jim Nash at No. 64 and Yahoo! Sports Executive Editor Dave Morgan at No. 85.
These lists always lead to some good debate. So let's hear it.
Please enable JavaScript to view this content.