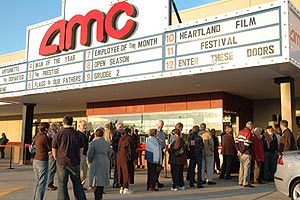 Game of Change, a documentary directed by Jerald Harkness, will be featured at the 2008 Heartland Film Festival in Indianapolis, beginning Oct. 18. Harkness, who is the son of Jerry Harkness, a two-time All-American and the leading scorer on the 1963 Loyola University Chicago men's basketball team that won the NCAA Championship, chronicles the civil rights issues faced by the Ramblers during that historical season.
The Harkness family still has deep local roots. The elder Harkness formerly played for the Indiana Pacers and now runs an Anderson sporting goods store. The younger Harkness recently left his post at the Indianapolis Convention and Visitors Association, and is now the CEO of locally based Pathway Productions. Mays Chemical boss Bill Mays has financially supported several of the younger Harkness' productions, and recently became Pathway's majority owner.
Loyola started four African-American players during the 1962-63 season, and faced intense discrimination and racism during their championship run. Loyola won the NCAA Championship that season with a 60-58 overtime victory over two-time defending champion Cincinnati in the title game. To this day, Loyola remains the only school from the state of Illinois to have claimed an NCAA Division I men's basketball championship.
The film, which was made in cooperation with the NCAA, will be screened at 4:45 p.m. and 7:15 p.m. on Oct. 18 at AMC Greenwood Park, and at 9:30 p.m. on Oct. 20 and at 7:15 p.m. Oct. 22 at AMC Castleton Square.
Please enable JavaScript to view this content.