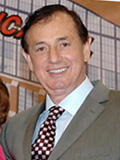 There have been a fair number of complaints about the new home of the Indianapolis Colts since its opening in August, from the temperature inside the stadium to traffic flow in concourses and long lines at concession stands. But if you ask Forrest Lucas, whose company bought the naming rights to the $720 million facility, the stadium is all good—almost.
Lucas took a break from driving cattle at his Missouri ranch yesterday to share his thoughts with the IBJ about the new stadium. In addition to the naming rights, Lucas Oil Products sponsors the north gate, where Lucas himself oversaw decorating the plaza with company memorabilia and interactive features.
"I've heard almost nothing but positives about the new stadium," Lucas said. "It's just so much nicer in the new stadium. It's been very good for our company on a number of levels."
The new stadium is much better for corporate entertaining than the RCA Dome, Lucas said, with larger suites and more amenities. He said the areas around the suites were much more conducive for networking and entertaining. He also thinks there is plenty for fans in the stands to be pleased about, with better sight lines and other amenities throughout the stadium.
"There has been a lot put into the atmosphere," Lucas said. "I was there for the first three Colts games, and it's just awesome. It's a beautiful place."
The only downside so far is traffic flow, Lucas said, and he thinks that will be worked out. "They need to do more work in helping people find their way to their seats," Lucas said.
The more people that visit the stadium, Lucas thinks the less complaining there will be. "I think if the taxpayers come to see it, they will say it's money well spent," Lucas said. "That facility is state-of-the-art, and it will be for a long, long time."
Please enable JavaScript to view this content.