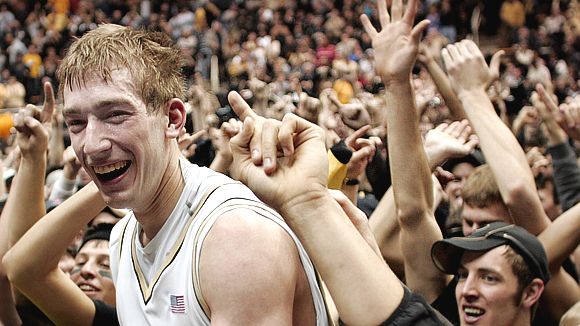 For those who say the pre-season means nothing, I disagree. It's a good indicator of a team's fan base. While I didn't expect the Indiana Pacers to draw hordes of fans for its pre-season slate, I was mildly surprised they didn't sell out Pepsi Coliseum for their pre-season opener. I guess it's time to stop leaning on the ABA past and start looking to the future. The crowd of more than 9,500 at the team's game in Fort Wayne was more encouraging, especially given that only about 7,000 tickets were sold before game day. Last night's announced crowd of 9,179 at Conseco Fieldhouse could be a sign of things to come in the central Indiana market unless the Pacers get off to a hot regular season start. I know, it's only pre-season.
The Pacers will find out soon enough how loyal—and large—their fan base is, with the season opener against Boston fast approaching Nov. 1. With seven of the team's first 10 games at Conseco Fieldhouse, November will be a telling month for the Blue and Gold's prospects for fiscal 2008-09.
Indiana and Purdue won't have to wait until their season openers in November to get a gauge. They'll get an indicator during season-opening practice Friday night. IU has traditionally drawn between 12,000 and 16,000 for its Hoosier Hysteria and Purdue has seen interest intensify this year for its Mackey Madness, the first time it has been held in five years.
Purdue Coach Matt Painter is pushing for a 14,000-plus sell-out in West Lafayette. If he gets it, expect this to become an annual event. Given Purdue's nationally ranked men's team, a large crowd is likely.
With IU losing almost its entire roster after last season's meltdown, the turnout at this year's Hoosier Hysteria will be especially telling. And in Bloomington, this is about far more than school spirit.
With its football team tanking, IU can scarcely afford to see an attendance decline during its men's basketball season. In 2007, the IU football team brought in $17 million. You should expect that to go down dramatically this year. During the same time period, the IU men's basketball team brought in $12.3 million. A steep revenue drop in both programs could send the school's athletic department back in the red.
Please enable JavaScript to view this content.