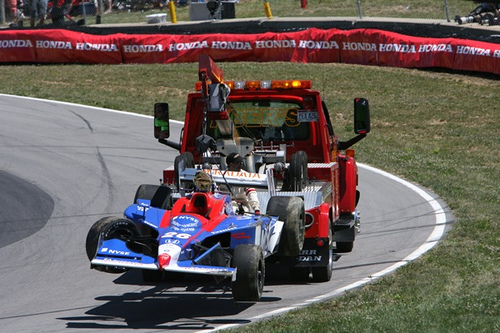 The Indy Racing League's drive for a title sponsor has hit the wall.
"The economy is having a huge impact," said Zak Brown, president of Just Marketing International, the local firm the IRL hired to sign a title sponsor.
In early September, Brown promised to land an IRL title sponsor by Jan. 1, and said an eight-figure deal "was on the doorstep." Subway restaurants, Kodak, William Rast clothier and two technology companies comprised the short list, sources close to the negotiations told IBJ last month.
First, the negotiations were slowed when sponsors wanted questions answered about the TV partner switch from ESPN to Versus, then the wheels fell off the economy. Now Brown doubts that Jan. 1 will bring a particularly happy new year for IRL title sponsor chasers.
"Sponsorship discussions across sports have come to a screeching halt," Brown told IBJ yesterday. "I'm less optimistic a deal can be done by the end of the year."
Brown said now is not the time for his firm or IRL officials to push the panic button. He has implored league officials—and racing fans eager to see a deal get done—to have patience. A title sponsor is critical not only for the cash infusion it will bring the series, but also for providing marketing muscle needed to reach a broader fan base and grow the series.
"With it being a long-term agreement, the last thing you want to do is do a deal now, and regret it for many years to come if it's not the right deal."
Brown, whose company represents a range of sponsors in the IRL, NASCAR and Formula One, said he is only willing to consider blue-chip, Fortune 500 type companies with a major U.S. marketing presence for the IRL title sponsorship. The IRL in the past decade has been burned by title sponsorship deals gone bad with Pep Boys auto parts stores and Northern Light, a Web search engine.
One thing Brown said will not affect the title sponsorship hunt is his firm's association with Alan Miller, the tax and legal advisor who has been implicated in Helio Castroneves' tax evasion case.
"I have known Alan Miller for forever, and he's done some legal work for us on sponsorship deals, but he hasn't done any work for us in five years," Brown said. "I'm shocked and stunned by this, but it won't have any bearing on our company."
Please enable JavaScript to view this content.