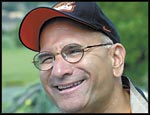 Indiana University may have a shorter list than expected for its soon-to-be-open athletic director position. The Oregonian is reporting that Oregon State University athletic director Bob De Carolis could be offered the job as early as this week.
De Carolis would not comment. He did release a statement saying he wanted to respect IU's process of selecting a new AD, and not interfere with it.  There is some concern that the hiring of De Carolis means IU is bringing in another outsider to try to clean up their problems. At least De Carolis, who worked 19 years in the University of Michigan athletic department, has some Midwestern roots.
De Carolis, 55, signed a five-year contract extension with OSU in 2006 that pays him $353,892. Sources close to IU said university officials there are willing to up his pay.
De Carolis left Michigan in 1998 to become OSU associate athletic director of internal operations. He was promoted to senior associate athletic director in 1999, and became AD in 2002.
There are several things the IU faithful might like about De Carolis. He is something of a turnaround artist. Given the state of IU's football team, that's especially significant. De Carolis has a track record of managing the business of the athletic department. In interviews, he talks more about increasing margins and leveraging marketing plans that he does about scoring touchdowns and knocking down three-pointers.
Since arriving at OSU, De Carolis has developed and executed the financial recovery plan that helped the OSU athletics department eliminate a $12.5 million deficit and grow the overall budget by more than $20 million. At the same time, OSU had its first winning football season in nearly three decades, its first winning men's basketball season in 15 years, the softball program made its first appearance ever in the College World Series and the baseball team competed in the College World Series for the first time in over five decades—capturing the 2006 and 2007 national championships. 
De Carolis has overseen $115 million in renovations to the school's football stadium. Not surprisingly, OSU football coach Mike Riley said the loss of De Carolis would be "bad news." I guess that's all a matter of perspective.
Please enable JavaScript to view this content.