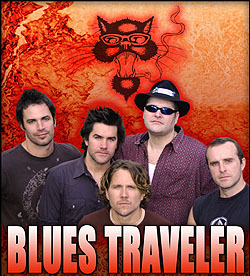 To celebrate the beginning of their 10th season at Conseco Fieldhouse, the Indiana Pacers will host the first outdoor concert in the venue's history before the team's home opener Nov. 1.
A free, 75-minute performance by Grammy-award winning rock band Blues Traveler, which recently performed its newest hit, "You, Me and Everything" on the David Letterman Show, will open the night's festivities at 5 p.m.
Fieldhouse doors open at 6 p.m., and tip-off is at 7 p.m., for what the team is calling "Let's Paint the Town Blue and Gold Opening Night."
The arena's Pennsylvania Street Plaza is the central gathering point for the open-air Blues Traveler concert. The show will be staged between the Fieldhouse, the adjacent parking lot to the north, and Pennsylvania Street—between Georgia and Maryland streets. The concert will be conducted rain or shine, Pacers officials said.

Immediately following the Blues Traveler concert, the Pacers Gold Band will march Pacers fans into the arena amidst a shower of blue and gold balloons.
Please enable JavaScript to view this content.