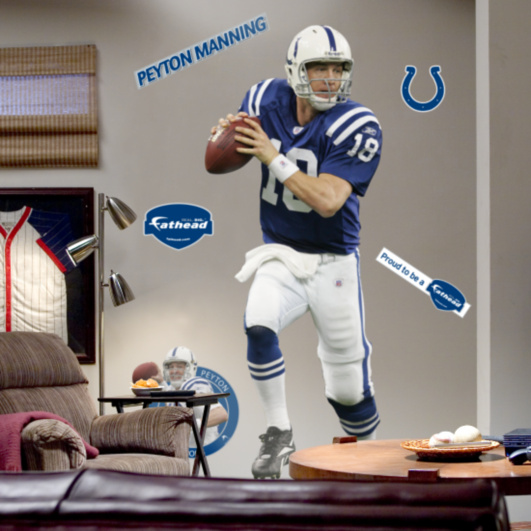 On the day FatHead officials announced a deal that would make safety Bob Sanders the fourth Indianapolis Colts player the focus of one of their life-sized wall stickers, Tennesse Titans heas coach Jeff Fisher was throwing darts at one of Peyton Manning at the Titans' training facility. Well, verbal darts anyway.
Fisher hung up a FatHead of Manning yesterday and told his players as he approached it, "We have to get closer to Manning on Monday than this," Fisher said. "A lot closer."
Titans players said Fisher made it clear they needed to put Manning on his backside. I'm sure FatHead officials were smiling ear-to-ear as news of Fishers' motivational tactic was highlighted on ESPN yesterday and today.
Meanwhile, Sanders said he was pleased to be just the fourth Colt chosen to be made into a FatHead behind Manning, running back Joseph Addai and receiver Marvin Harrison. There are actually two separate FatHead likenesses of Manning available.
While the Manning, Addai and Harrison FatHeads cost $99.95 each, Sanders introductory FatHead is $119.95.
Please enable JavaScript to view this content.