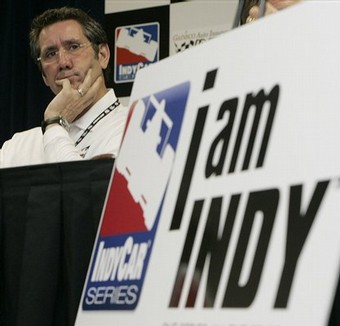 The Indy Racing League is being greeted with much fanfare in Australia this week, but it remains doubtful the open-wheel series will return to race at Surfer's Paradise next year.

The first two days of practice drew more than 55,000 fans each day, and this weekend's race has been plastered all over the major daily newspaper, The Gold Coast Bulletin. On Thursday, the Bulletin devoted its first four pages to race coverage, including a page one photo of IRL chief Tony George.
Inside, the paper printed a clip-out section to "Tell Tony you love Indy." The mail-in petition drive is the newspaper's effort to get the race to come back next year. Thursday's Bulletin also included a 40-page special section about the race, which is not a part of this year's IRL points series. Danica Patrick was front and center of the paper's entertainment section with a photo and in-depth interview.
The paper reported Friday that promotional stops by several drivers including A.J. Foyt IV, Ryan Hunter-Reay and Graham Rahal were crowded with throngs of fans. Several drivers, including Mario Moraes and Jamie Camara played the local Miss Indy finalists in a game of beach volleyball, not surprisingly another popular event with the locals.
Despite the attention the series is getting in the land down under, the prospects of returning remains dubious. The series has financial and scheduling concerns. While the promoter paid the frieght for a limited number of crew and other team members to come over, some IRL teams were forced to pay almost $100,000 for flight tickets alone to get the rest of their team members over. Other teams are making due with skeleton crews. There is also a scheduling problem. It makes no sense for the IRL to crown its champion at an off-hour on the other side of the globe, but moving the race up a month would conflict with soccer season, which is a much bigger deal in Australia than racing.
Please enable JavaScript to view this content.