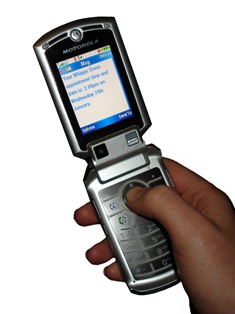 If you're feeling threatened at this Sunday's Indianapolis Colts game at Lucas Oil Stadium, or if some obnoxious fan near you is dropping the F-bomb left and right for all your kids to hear, or if someone with a sign is blocking your view, help is just a text message away.
This week, the Colts unveiled a new communication system at Lucas Oil Stadium to help keep the peace and assure everyone enjoys the game. Colts officials emphasized this isn't a response to recent rowdiness during home games, merely a proactive measure using the latest technology available.
Fans who need help should text INDY, followed by a space and the issue and location to 78247. Colts officials are asking fans texting for help to include a seat number if possible. The system can also be used for medical emergencies, but Colts officials said it might be speedier to grab the nearest security person instead.
"This system is for any need a fan might have during a game," said Larry C. Hall, Colts vice president of ticket operations and guest services. "Even if it's just a spilled Coke, we don't want our fans to have to sit in that all game. It's also to help assure everyone is acting properly."
The system allows fans to call for help without causing a scene or turning the incident into an altercation between spectators, Hall said. Hall insists Colts officials aren't being killjoys. The Miami Dolphins were the first team to introduce this system earlier this year, and now about six of the NFL's 32 teams have the system.
"Everyone has the right to have a good time at the games, but not at anyone else's expense," Hall said.
The system is for need, not wants. In other words, Colts fans can't text for a bucket of popcorn or serving of nachos. "No," Hall said through a laugh, "We're not at that stage yet."
Please enable JavaScript to view this content.