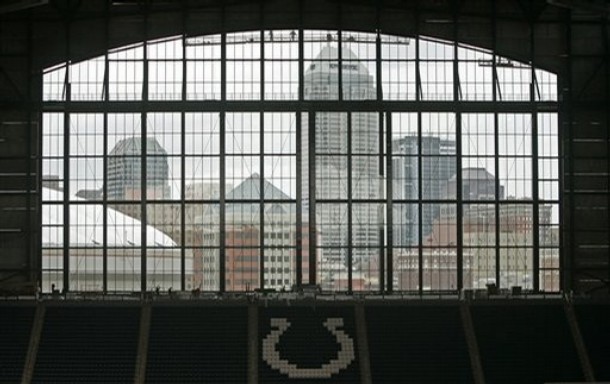 Indianapolis Colts officials said ratcheting up the noise inside Lucas Oil Stadium had nothing to do with the decision to close the large window on the north end of the stadium for last night's game against the New England Patriots, as reported by NBC announcers calling the game.
"There was a breeze on the north end of the stadium that we felt could affect the kicking game as the game went on," said Colts Senior Vice President Pete Ward. "And as the evening went on, the temperatures were supposed to dip into the low 50s, and it can get pretty cool in the upper part of the north end of the stadium. We had that issue at the game on Aug. 24."
Indianapolis' Lucas Oil Stadium is the only National Football League stadium with a large retractable window. The Dallas Cowboys have since copied the idea for their new stadium, set to open next year.
The window could be a real competitive advantage if the Colts sought to use it. Since there are no NFL rules governing windows like a retractable roof, the Colts could open and close it at will during a game. Opening the window late in the game, could have put a tailwind at Colts kicker Adam Vinatieri's back for the game winning 52-year field goal. As it turns out, he didn't need it. More significantly, if the Patriots had driven down late in the game for an attempt at a game-tying field goal, Colts officials could have opened the window to put a swirling wind in the face of Patriots place kicker Stephen Gostkowski.
"To open or close the window in the middle of the game could be a controversial issue," Ward said. "We wanted to have everything in place before the game. So 15 minutes before the game, the window was closed."
As for the noise level inside Lucas Oil Stadium, Ward has few concerns the Colts fans will rise to the occasion when it's called for.
"The noise level is loudest at field level," Ward said. "I've had a number of fans near field level tell me it's just as loud if not louder than the RCA Dome. It's more than acoustics, it's about fan participation. And we have absolutely great fans."
Please enable JavaScript to view this content.