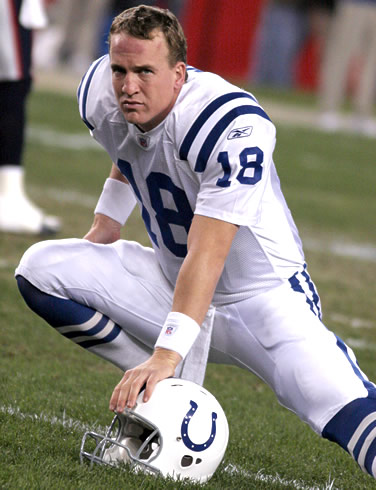 Watching the Dallas Cowboys struggle recently under the leadership of back up quarterback Brad Johnson and the Pittsburgh Steelers flourish behind second-stringer Byron Leftwich during the second half of their game last night has me wondering if the Indianapolis Colts have enough insurance behind Peyton Manning.
Earlier this year, the Colts took a pass on several veteran quarterbacks on the market, staying instead with seldom used Jim Sorgi. Unlike the Cowboys, the Colts don't even have a third string QB on the roster to turn to if times get really rough. For the Colts, this is a calculated risk that is as much about economics as playing the odds. Manning hasn't missed a start since 1998, and Colts President Bill Polian has decided not to sink a lot of money into a back-up.
But watching the Cowboys, who clearly put their stock in Tony Romo going the distance, has made Colts followers wonder if the team would take a similar free fall without Manning, who looks more physically human than ever this year.
Spending more on a second-string quarterback doesn't guarantee success. Sorgi, who will make $760,000 this year, is a relative bargain. The Cowboys are paying Brad Johnson $2.8 million. There's a good argument the aging Johnson is less competent than Sorgi.
But there are bargains out there to ensure that a Manning injury wouldn't necessarily wipe out the season. The Steelers grabbed such a bargain in 28-year-old Leftwich, a former first round draft pick from Marshall. Leftwich earlier this year signed a one-year $605,000 deal to join the Steelers. Because he signed for a minimum exception, the deal will count only $445,000 against the Steelers salary cap.
If starter Ben Roethlisberger can't go this Sunday when Pittsburgh hosts the Colts, we will find out first-hand just what kind of a bargain the Steelers got.
Please enable JavaScript to view this content.