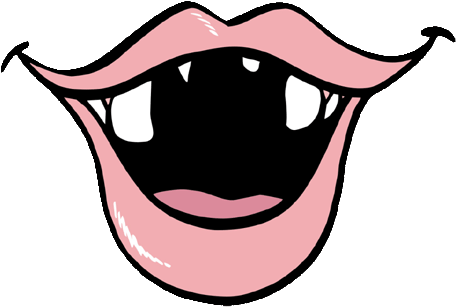 I've said it before, but you have to give the Indiana Pacers sales and marketing department props for creativity. Today, the Pacers launched their "Teeth for Tickets" promotion, in honor of forward Danny Granger losing his front teeth in an on-court scrum with the Boston Celtics Nov. 1. The Pacers front office rightly recognize that it's that kind of effort that will win Indiana fans back to the blue and gold.
Anyone coming to tonight's game against Phoenix can buy one ticket and get one free if they do either of the following: Blacken in their two front teeth. I don't recommend using a permanent marker, or (and this may be the easier option) print out the drawing of Granger's mouth without teeth on Pacers.com or 1070TheFan.com and bring it to the specially designated Danny Granger Conseco Fieldhouse Box Office Window. Actually, if you want to blacken your teeth on your lunch break and head to the ticket office early, you can get the buy one get one deal then. The promotion officially kicks off when the Fieldhouse ticket office opens at 10 a.m. The Pacers didn't say anything about fans who are actually missing their two front teeth, but I'm guessing that would also be good for the buy one get one deal.
Send me a photo of you and your blackened teeth at aschoettle@ibj.com, and I'll put it on the blog tomorrow or Friday. C'mon, don't let the Pacers sales department be the only creative ones.
Please enable JavaScript to view this content.