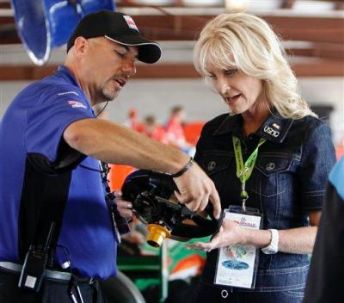 John McCain's loss to Barack Obama in Tuesday's presidential election is a loss not only for staunch Republicans and conservatives, it's also a loss for motorsports.
I know, there are more pressing presidential issues, like the failing national economy and Middle East wars, but this is, after all, a sports business blog set squarely in the middle of motorsports country. And a feature shown recently on national TV about McCain and his wife, Cindy, got me thinking what a McCain presidency might do for motorsports. Forget for a moment, that Obama's tax plan might zap high-dollar race teams and generously-paid drivers. This is more about marketing and image.
The nation has long had a fascination with the president's sporting passions and hobbies. No one will forget Bill Clinton's love of jogging (or the saxophone for that matter). Everyone knows George W. Bush was a baseball fanatic. Who could forget him throwing out the first pitch at an MLB game shortly after 9/11. Past presidents' love of hunting and fishing also have been well chronicled.
McCain and especially his wife Cindy are big racing fans. They've even dropped the green flag at several races. McCain's son, Jack, too is a big racing fan. Cindy even used a trip to a race driving camp to help her recover from a near-fatal stroke in 2004.
During a feature on ESPN Tuesday night, Cindy McCain was shown with NASCAR President Mike Helton and in separate shots with members of the Indy Racing League's Andretti Green Racing team members, including Danica Patrick. Sen. McCain is unable to drive race cars due to injuries suffered during the Vietnam War, but Cindy and Jack both own race cars. So passionate is Cindy McCain that she talked—only half jokingly—about building a race track at Camp David if her husband was elected. A sport simply can't buy that kind of marketing exposure, and the IRL and NASCAR certainly would have looked to capitalize if McCain was elected.
But alas, it was not to be. Instead, Obama's love of basketball will take center stage. Just this morning, former Duke University hoops player Reggie Love, Obama's body man during the campaign, was featured on national talk shows. And Obama was shown in clips wearing No. 23 during his high school playing days. It won't be the last time basketball gets pumped up by the soon-to-be president's connection to the sport. Of course, that's not all bad for Indiana either. After all, in every other state in the nation basketball is just a sport. But not Indiana. And with the Pacers, Big Ten tournaments and NCAA Final Fours here, there is plenty of economic impact that could be boosted.
Please enable JavaScript to view this content.