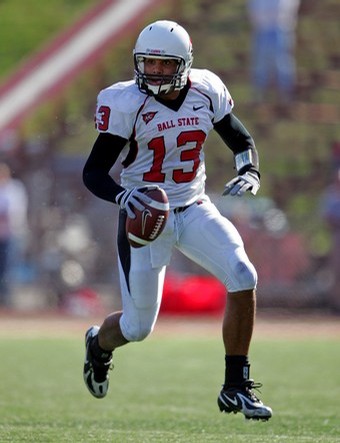 Does Bill Polian's attendance at Ball State's home football game Wednesday night mean the Indianapolis Colts are quarterback shopping? League sources and draft experts said the notion shouldn't be discounted, although Colts Coach Tony Dungy told IBJ recently he thought Peyton Manning, 32, has at least five good years in the tank. That surgically repaired knee might have team officials thinking twice about that. Or the Colts might merely be thinking of looking to their long-term future.
Polian told the ESPN2 crew covering Ball State's game he couldn't comment too much on Ball State QB Nate Davis, 21, due to NFL regulations, but added that he liked what he saw from the Ohio native.
Letting Davis, who is a junior but is said to be considering coming out early, learn for three or four years behind Manning would be like sending him to graduate school in NFL quarterbacking. One thing is clear. Colts back up QB Jim Sorgi has no future as a starter in Indianapolis, a fact Dungy acknowledged to a roomful of local business executives at a recent IBJ Power Breakfast.
Ball State is currently rated No. 17 nationally, and Davis on Wednesday steamrolled Northern Illinois, the Mid-American Conference's No. 1 defense. History has shown it would be a mistake for NFL scouts to ignore MAC quarterbacks. Guys like Ben Roethlisberger, Chad Pennington, Byron Leftwich, Charlie Frye and Bruce Gradkowski have parlayed their MAC success to NFL careers. Polian said he is not deterred from drafting skilled position players from smaller conferences.
Some scouts said Davis, at 6-2, 217 pounds, is a tad small for a prototypical NFL quarterback. But his size certainly hasn't hindered him at Ball State, where he owns numerous school records. And he stood especially tall Wednesday night, completing 18 for 22 passes, for 300 yards and four touchdowns. You have to believe Polian took notice.
Please enable JavaScript to view this content.