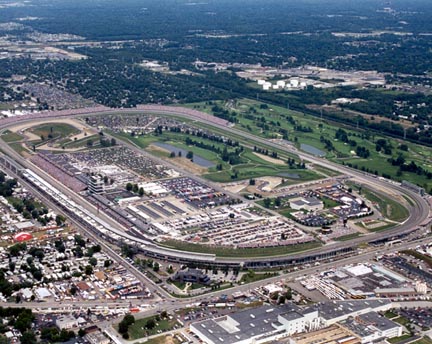 It's been a big year for the Indianapolis Motor Speedway and Indy Racing League. The IRL has seen some growth in this season of unification, with more viewers overall for the IRL and a successful motorcycle race for the IMS. The Tony George-led motorsports kingdom also has hit a few speed bumps, most notably a shake-up in its television partnership and a blown engine on efforts to land an IRL title sponsorship.
But George and his lieutenants soldier on with some very important growth plans that could reshape the face of one of the west side's most important landmarks. Plans to upgrade the Speedway-hotel have been moved to the front burner and the heat has been turned up on the idea of moving the Speedway's museum from the track's infield to a higher profile spot right outside the track. Leaders of the Speedway Redevelopment Commission think the museum would be a perfect anchor for developments that could make the track—and the town of Speedway—more of a year-round destination.
Momentum on these projects seem to be accelerating, and while IMS officials are typically tight lipped about it, Speedway Redevelopment Commission Executive Director Scott Harris hopes some announcement might come as early as next spring in conjunction with the celebration of the track's centennial and the announcement of other nearby commercial developments.
For more information and recent developments on this project, click here.
Please enable JavaScript to view this content.