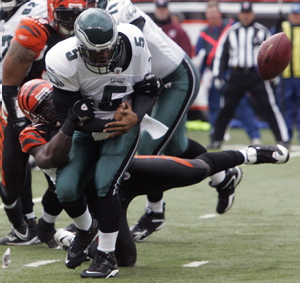 At an Indianapolis Colts team meeting held yesterday, coach Tony Dungy asked how many players didn't know an NFL game could end in a tie. About 15 players raised their hands, according to a player at the meeting. Including members of the practice squad and those on injured reserve, that means about one-fourth of the Colts players weren't aware of the rule governing overtime. If you assume at least a few players who didn't know the rule did not raise their hands out of embarrassment, you could deduce that as many as one-third of the Colts players didn't know a game could end in a tie.
Philadelphia Eagles Quarterback Donovan McNabb brought this issue to light when he said after last week's tie with the Cincinnati Bengals that he didn't know an NFL game could end in a tie. Pittsburgh Steelers quarterback Ben Roethlisberger told reporters Tuesday that he didn't understand what all the fuss was about. In McNabb's defense, Roethlisberger estimated that one-half of all NFL players didn't know that after one overtime (in the regular season), the pro game is declared a tie. A different set of rules governs the college game.
McNabb told reporters yesterday after practice that he didn't feel badly about not knowing such a basic rule of the game. "Now, because of this, all the players in the league know," he said.
Maybe, just maybe, you could excuse younger players for not grasping all the rules. But veterans? And basic rules like length of the game? And what about coaches? It seems logical that Eagles Coach Andy Reid might be the most culpable in this case.
If, as Roethlisberger said, 50 percent of NFL players didn't know a game could end in a tie, you might think that Reid would be aware of this, and mention the overtime/tie rule to his players—or at least his quarterback—when the overtime situation occurred.
Those 15 Colts players should be thankful that Reid didn't. What a valuable lesson.
Please enable JavaScript to view this content.