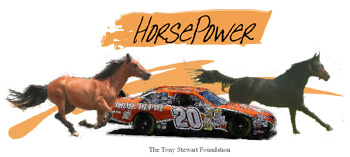 Say what you want about Tony Stewart, he's OK in my book. His foundation does lots of good work for causes benefiting children and animals. So if he sometimes gets a little caustic after races, I'll give him a mulligan. 
While the two-time NASCAR champion prepares himself for transition to the next phase of his career-ownership of his own Sprint Cup team in 2009—the foundation that bears his name is funding the transition of a whole other group of racers from the track into second careers of their own.
The Tony Stewart Foundation awarded a $20,000 grant to Indianapolis-based Friends of Ferdinand Inc., a not-for-profit volunteer organization that works with owners and trainers at Indiana's two horse tracks to identify and obtain thoroughbreds nearing the end of their racing careers. FFI evaluates and retrains the horses, and finds new homes with devoted owners. Its motto is "Retired from Racing, Not from Life." 
This isn't the first time Stewart has come to the aid of animals. Earlier this year he paid for 30 bullet- and knife-proof vests for the Indiana State Police K-9 unit. He also gives generously to several Humane Society shelters in Indiana and Purdue's veterinary school among others. His foundation also sponsored the Mutt Strut held at the Indianapolis Motor Speedway. Stewart does have a warm and fuzzy side.
Six to seven thoroughbreds, the first horses christened "Tony's Ex-Racers," were brought into the FFI program Nov. 17 during the annual end-of-season paddock sale at Hoosier Park Racing & Casino in Anderson. 
"A grant this size is significant and enables us not only to continue but to expand the work we do with our Indiana thoroughbreds. Especially now, with the economy in such turmoil, support of this magnitude is simply incredible," FFI President Sara Busbice. 
The organization is named in memory of Ferdinand, the 1986 Kentucky Derby Champion, Breeders' Cup Classic winner and 1987 Horse of the Year who earned more than $4 million during his career. In 1989 he was retired from racing and exported to Japan to stand at stud. A few years later, Ferdinand was slaughtered for human consumption.
Busbice praised Hoosier Park for joining the ranks of several other U.S. horse tracks in adopting a zero tolerance policy toward slaughter. According to a statement issued by Jeffrey Smith, Hoosier Park's general manager of racing, trainers or owners stabling at Hoosier Park who directly or indirectly participate in the transport of a horse from the track to a slaughter facility, or to an auction to sell horses for slaughter, will be prohibited from having stalls at the track.
Please enable JavaScript to view this content.