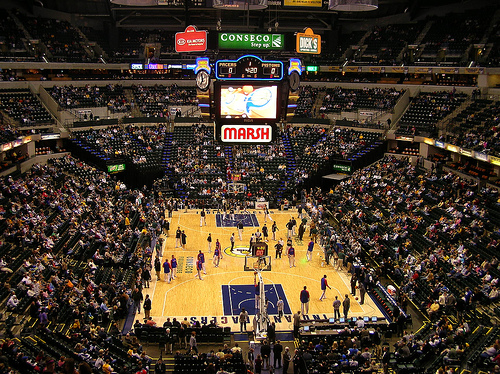 The Indiana Pacers are in the bottom five in the National Basketball Association in attendance, but it's still a solid leap up from last year. And it's early, so there's lots of time to get better—or worse.
Through seven home games, the Pacers are averaging 13,595 fans per game at Conseco Fieldhouse. Only Philadelphia, Charlotte, Sacramento and Memphis trail the Pacers in attendance. Still, that's a marked improvement over last year's league worst 12,221 average for 41 home games. But it's doubtful the per game revenue average has increased. With all those $5 tickets and buy one and get one free offers, it's likely the team's per game revenue generation has decreased. It's important to get the fans to sample the product, but you have to wonder if by discounting the product, the Pacers are permanently devaluing it. Time will tell.
So far, the fans' reaction has been mixed. Some say there's still something missing. I've got news for you folks. Reggie Miller isn't coming through the locker room doors and onto the court—unless he's in a three-piece suit with a TNT mic in his hand. More recently though, fans have said the atmosphere inside the Fieldhouse is improving—and more importantly so is the play on the court. Fans seem to like the more college-like feel the Pacers are fostering in the Fieldhouse. And the players' and coaches' 'try harder' mentality is slowly eroding local fans' cynicism toward the organization.
Meanwhile, the Pacers are launching another creative sales campaign. This Friday, while countless Hoosiers will be headed to area shopping centers in the wee hours of the morning, Pacers officials hope at least a few thousand will venture to Conseco Fieldhouse. $5 tickets go on sale in the club and balcony level from 6 a.m. to 7 a.m. Cock-a-doodle-do! During the same time, merchandise in the team's Conseco Fieldhouse gift shop will be 50 percent off for ticket buyers. The Pacers are offering other discount ticket and merchandise deals through noon.
While the Pacers face a difficult schedule ahead, the team's sales and marketing staff may face the stiffest competition of all, a free falling economy and a fiscally belt-tightening fan base.
Please enable JavaScript to view this content.