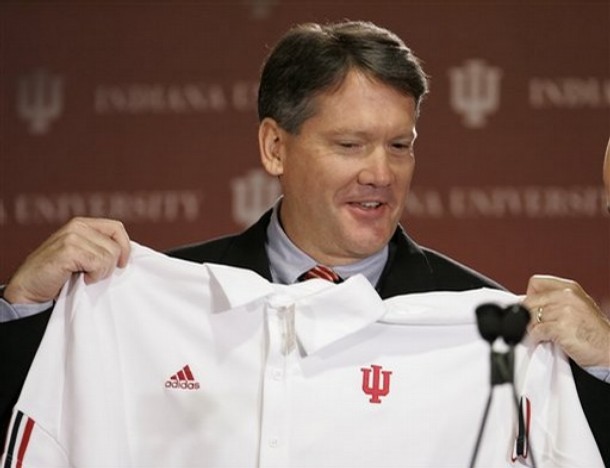 The system works, proclaimed Indiana University coach Tom Crean yesterday after the NCAA handed down its ruling for transgressions in the Hoosiers' basketball program last year.
It certainly does. But most people have little idea about the internal workings that make the machine we call the NCAA grind along. So here's a tutorial—and a history lesson IU athletic department officials won't soon forget.
First, in this twisted story, IU self reported improper phone calls to recruits by the men's basketball coach and an assistant coach. IU athletic department officials, as you may recall, say they believe these infractions are minor. At this point, no one besides Ted Kitchel is calling for coach Kelvin Sampson's termination. And Kitchel had been calling for Sampson's exodus for two years.
NCAA officials raise their eyebrows to the sky. They inform IU that there are five "major" violations. Translation: You had better clean house, and we're not talking about a sacrificial lamb in the form of assistant coach Rob Senderoff. Not even self-imposed recruiting and scholarship restrictions will do.
After it became clear there was no saving Sampson, or the 2007-08 season for that matter, IU offers the NCAA another sacrifice, a big one, in the form of its head basketball coach. This is going to cost a hefty payout. Not good enough, says the NCAA. But as NCAA officials were quick to point out yesterday, they don't directly control hirings or firings. That's lawyer speak. Sure they do. Of course, IU hadn't been through the NCAA wringer in five decades, so university officials didn't know this 10 months ago. They do now.
So after it becomes clear Sampson is exiting stage right, the NCAA slaps a failure to monitor on the athletic department. Translation: IU athletic director Rick Greenspan must go. Huh? After a little hammering to the head, this message finally sinks in with IU higher ups.
IU officials, moving at glacial speed, in turn announces it will seek a new AD. But that person will not replace Greenspan until Jan. 2. That was another misread on the part of IU. Not only did the NCAA want Greenspan gone, it wanted some power to approve the new hire. It became clear, if the NCAA liked the choice of Fred Glass, there would be no further sanctions against IU. Glass was a solid pick, if for no other reason, because he has comparatively little history with the NCAA, less baggage and no enemies within the association.
You think I'm a conspiracy theorist? Maybe. But I offer this as proof. Almost everyone wonders what took the NCAA so long to hand down its ruling. Several reporters asked this very question during yesterday's press conference to announce the ruling.
The final testimony of this case was given in June. Infractions committee chair Josephine Potuto, a Nebraska law professor, offered this: It took two months for the committee to go through the material. It took additional time to write a draft, review it and finalize it. Then it took a bit of extra time to deal with the failure to monitor. Really? It took less time to finalize the Declaration of Independence and U.S. Constitution combined.
The NCAA has been sending Indiana signals for a long time. It took IU a while to get the message. But university officials finally got the NCAA translation right. If Glass hadn't been named at least somewhat expeditiously, the Hoosier nation would still be simmering in NCAA Purgatory. If the sacrifices had been any less generous, the Hoosiers would be burning in … well, I'll leave that translation to you.
Please enable JavaScript to view this content.