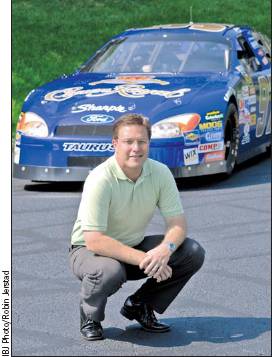 When I first met Zak Brown in 2001, it was to interview him for a story about his mostly unheard of company, Just Marketing. At the time, I was writing a "Small Business Profile" for IBJ's print edition. Brown, a native Californian with no education beyond high school and no formal training in marketing, had a couple contacts in the airline industry and a short history driving in the Formula One feeder leagues. I interviewed him in a dank office on the back side of a business park on the city's northwest side.
But shortly after that profile ran—and I'm sure it had nothing to do with the profile—Brown began nailing down a litany of big deals for Subway restaurants, Hilton Hotels and DeWalt Tools among others. He brokered deals with NASCAR to bring in the first hard liquor companies—Smirnoff and Crown Royal—as sponsors into the series and began inking some eight-figure deals in F1.
The fact that he now has top executives of every major racing series worldwide on speed dial is almost funny, when I think back about the 29-year-old I first interviewed. In 2002, a high-level Indy Racing League executive asked me who Zak Brown was, and why I kept quoting him in stories. My response was, "If you don't know who Zak Brown is, you should."
NASCAR was much quicker to realize the prize auto racing had in Brown and his growing Indianapolis firm.
"He's done quite a body of work in NASCAR, and there isn't anyone on the business side—or really any side—who doesn't know Zak and his firm," NASCAR boss Brian France told IBJ in 2005. "He's been good for NASCAR, its teams and drivers."
I think it's safe to say IRL officials know who Brown is now. The series hired him to find a title sponsor last year. He hasn't managed that trick yet. His failure to land an IRL title sponsor hasn't slowed his business much. Even in this rocky economy the easy speaking Brown continues to sign major clients and huge deals. Oddly, I still run into quite a few Zak Brown doubters in the sports marketing field. I'm not sure where the skepticism is born.
Today, Just Marketing announced it brokered a deal with LG Electronics and F1. You can bet there are a lot of zeroes on the pact's bottom line. This comes at a time when a Charlotte-based motorsports marketing consultant told me nothing is doing in the sponsorship arena right now—nothing!
I'm told by sources in a position to know that the LG agreement is an easy eight-figure deal. Headquartered in Seoul, South Korea, LG has over 75 subsidiaries worldwide that design and manufacture televisions, home appliances, and telecommunications devices and over 83,000 Employees worldwide, with 2007 revenue of over $58 billion.
The agreement brokered by Brown means LG will have the following designations: Technology Partner of F1,  Official Consumer Electronics of F1, Official Data Processor of F1, Official Mobile Phone of F1, A Global Partner of F1.
With so many Just Marketing successes, it's almost easy to glaze over this one. But those are some very hefty categories worthy of a year's worth of heavy lifting for some sports marketing firms. For Just Marketing, it's just another Happy Thanksgiving.
Please enable JavaScript to view this content.