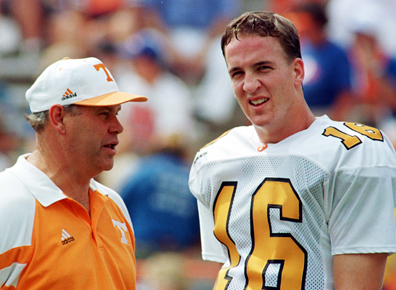 Few doubt that Indianapolis Colts quarterback Peyton Manning will be a first-rate coach—if he chooses to pursue that line of work after his playing days are over. He's already taken on the role of consultant.
Sources close to the University of Tennessee athletic department said Manning was one of a very small handful of people consulted by UT brass when they were considering hiring former Oakland Raiders head coach Lane Kiffin as the Volunteers new coach. Manning was upset last month when Tennessee fired Phil Fulmer, who coached the team when Manning played there.
But Manning also has a Kiffin connection that might have led to his endorsement of the 33-year-old. Kiffin's father, Monte, was an assistant coach at Tampa Bay when Tony Dungy was there. Together, Monte Kiffin, 58, and Dungy fashioned the vaunted Tampa 2 defense. Sources within UT said Monte Kiffin is set to join his son's staff there.
Please enable JavaScript to view this content.