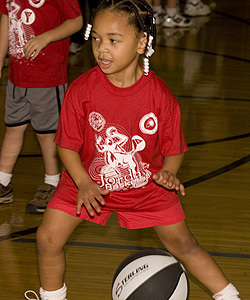 I am torn today. I know a story about gun-toting athletes will get readers' attention. And with New York Giants wide receiver Plaxico Burress' recent problems, it's timely.
Yesterday I was only slightly surprised when Don Davis, owner of locally based Don's Guns, told the hosts of the WFNI-AM 1070 afternoon show that numerous Indianapolis Colts and Indiana Pacers players are some of his best customers. Some of the Pacers (some of which are now former or soon-to-be former Pacers), he said, were such good customers, he had their signed photos up on the wall of his store. Davis said Pacers officials asked him to take those pictures down. And Davis said he complied.
So, it's no wonder, I thought, some of our local professional athletes and teams have image problems. It's no surprise, I thought, that so many parents have told me they will no longer take their kids to the games. Yesterday, in fact, a new study—the second annual Turnkey Team Brand Index—came out. It showed that the Pacers brand strength isn't very good.
But I don't think it's entirely fair to paint this picture and tell this tale in a vacuum. Having reported on the business of sports in central Indiana for more than a decade, I've gotten to know many of the people pulling the strings and pushing the buttons in the front offices of the Colts, Pacers, Indianapolis Indians and Indy Racing League. Most of them have solid intentions. And I know a strong professional sports landscape makes Indianapolis a stronger, more vibrant city. So while I must be objective in my reporting, I must admit that in my heart, I often find myself rooting for them.
No one has been more vigilant at trying to produce a solid product in the last year than the Pacers. They're not there yet, but I mostly give them an A for effort. Yesterday, the Pacers made a "major" announcement about how the team plans to get involved first-hand in youth basketball. Quinn Buckner, the Pacers VP of communications, will head up the initiative. This should be front page news. But it barely registered.
On the other hand, I could tell you what kind of vehicle Burress arrived at the courthouse in yesterday, and what he wore. I could give you a thousand Web site addresses where you could learn all about Burress' troubles and the issues of guns and athletes. But today, I've pulled my cynic's glasses off for a moment and closed my critical eye. And I'd ask you instead to visit this site.
Please enable JavaScript to view this content.