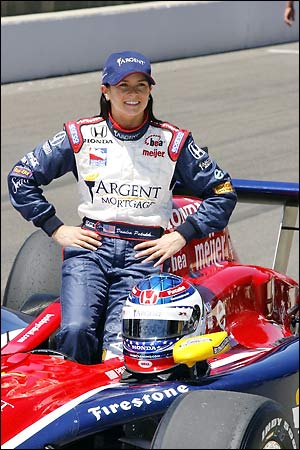 Indy Racing League driver Danica Patrick topped golfer Tiger Woods, quarterback Tom Brady and Super Bowl champion Eli Manning and his brother Peyton as the most searched for athlete in 2008, according to America Online's annual list of top Web, mobile and video searches.
AOL annually ranks the top searches in 40 categories based on the people, places and topics that received the largest volume of Web and mobile search queries on AOL Search and on Truveo, the company's video search engine.
Patrick, who raced into national prominence with a fourth-place finish in the Indianapolis 500 in 2005, increased her popularity with several milestones in 2008. Prior to the start of the IRL season, the 26-year-old graced the pages of Sports Illustrated's Swimsuit Edition, an issue that generates more than 69 million readers as well as more than 250 million online visitors.
On the track, Patrick made history in April when she earned her first career victory, the first victory by a woman in an Indy car event. She went on to finish a career-high sixth in the championship.
Please enable JavaScript to view this content.