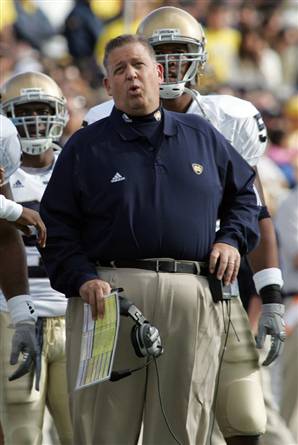 Fred Glass, IU's soon-to-be athletic director, and Notre Dame AD Jack Swarbrick have something in common. And I'm not talking about their roots as law partners at Baker & Daniels. Neither one of them has a choice but to stick with a disappointing football coach. For at least another year, Swarbrick is stuck with Charlie Weis at Notre Dame and Glass with Bill Lynch at Indiana.
Don't start in with contracts and buyouts. Contracts these days are written to be broken and alums and supporters at either school could easily come up with the cash needed for buyouts. In the time it took me to write this, Bill Cook's savings account(s) earned enough interest to pay off Lynch's paltry contract.
The reason Swarbrick and Glass are stuck with their coaches in 2009 is simple. Their collegiate sports rolodexes each have one card in them—each others. Ok, that's a slight exaggeration. But the point remains. The business of college athletics isn't so different than any other industry. It's about relationships, and Glass and Swarbrick—for all their smarts and local sports experience—have precious few contacts in the world of college athletics. That's why they came relatively cheap. Relevant experience costs money. And while my experience with both of these men make me think their hires will pay long-term dividends for both schools, it has hamstrung them in the short-term. Remember, Swarbrick has been on the job less than five months, and Glass doesn't officially begin at IU until Jan. 2.
It was suggested to me by a reader recently that Lynch could do IU a service and resign. The best thing Lynch can do for IU is soldier on for one more year and give Glass a chance to make his introductions in this hyper competitive new career field.
Glass said he felt the need to clarify Lynch's future to make sure other schools don't raid IU's football recruits. I don't want to be too cruel here, so let's just say that most of IU's football recruits aren't on Florida or Ohio State's radar. I'm not sure they're on Ball State's radar at this point. Be clear, this is a time-buying strategy.
It would be easier for Swarbrick to ditch Weis. With the Notre Dame football coaching job—like the IU basketball gig—you get a fair amount of attention by simply running the job opening up the flag pole. It's true that Swarbrick has lots of friends at the NCAA and throughout Indiana, but within the tight ring of NCAA Div. I athletic directors and coaches, he's still something of an outsider, or at least an unknown commodity. No matter how smart Swarbrick is, you're not born with the type of insight he needs to make an educated hire. Sure, he can look at records, but past experience at one program doesn't necessarily equate to future success at another. Notre Dame supporters should well understand that.
Glass' job hiring a football coach at IU is much more difficult. It will take a real sales job to land a solid candidate in that position. Any salesman knows that you have to build trust before you close a deal. There isn't a big-time coach in the country that would cast their lot with Glass right now, and probably not many—if any—up-and-comers. In time, that will change, but for now, Glass is showing his smarts by understanding his limitations and standing pat. Building a winner will have to wait another year. IU supporters have to hope he's already laying the foundation.
Please enable JavaScript to view this content.