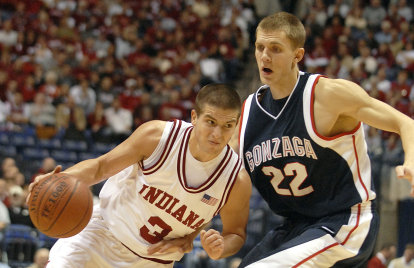 It's difficult to say if Saturday's weak turnout for the first basketball games at Lucas Oil Stadium is an indication of how bad the economy or Indiana's basketball team is. Probably both. It's a very troubling sign for everyone making a living in the sports world nonetheless.
The Hartford Hall of Fame Showcase featuring IU against Gonzaga and Ohio State vs. Notre Dame drew 17,007 spectators for a venue configured to seat just more than 26,000. Event organizers made the mistake of initially pricing tickets too high, then discount them 20 percent on Nov. 28. Despite offering $12 tickets, about 9,000 seats for the Dec. 6 game went unfilled. This in a market that drew 50,000 to the RCA Dome for the Hoosiers NCAA tournament preliminary round game against Xavier in 1992. I know, it's hardly fair to compare this year's team to the Calbert Cheaney-led squad that was making a run at the Final Four.
Still, if the very first game in a spiffy new stadium with a game featuring the No. 5 team in the nation can only draw 17,000, you have to wonder what meaningless IU games in January and February down in Bloomington will draw. IU is in a year when it can't afford to see a big attendance decline.
IU counts on football and basketball to keep the athletic department in the black, or at least out of the red. Figures for this year aren't available, but you can bet the football revenue is way down. In 2007, football revenue was $17 million and basketball revenue was $12.3 million, accounting for 73 percent of athletic department's budget. If basketball revenue drops, new athletic director Fred Glass will have another serious challenge to hurdle.
I would bet Saturday's attendance caught the attention of interests far outside Bloomington. If it is an economic indicator, other sports franchises including the Indiana Pacers, Indianapolis Indians and Indy Racing League have much to be concerned about. The fact that lat week's Pacers-Lakers game was far short of a sellout, could be another sign that life in the world of revenue-generating sports is about to get a lot more challenging. There's certainly an early indication that weaker teams will be the first to suffer. I don't think IU's six-game package featuring Lipscomb and Northeastern for $159 is going to get it done. Saturday's game showed locals aren't about to pay $26.50 per ticket for that kind of competition.
And while the Indianapolis Colts are safe for now, with the price of their tickets, they have to be hoping the economy turns around at least a little before they launch their season ticket renewal campaign in late February. Or they may find out just how solid that waiting list for tickets really is.
"Sporting events across the nation at all levels are re-evaluating their respective ticket price points due to decreased spending by consumers," said Brooks Downing of Best Collegiate, which organized Saturday's basketball doubleheader. "Given the state of our economy, we felt it was proper to offer a special incentive."
If you can't attract Hoosiers with an IU basketball game, new venue and a special incentive, sports promoters have to be wondering what will attract fans through the turnstile. The scariest scenario: Maybe nothing.
Please enable JavaScript to view this content.